Finding the best disc sanders is no easy task!
Disc sanders are some of the most powerful industrial tools that are predominantly utilized by workers in metal polishing, metal grinding, wood finishing, and material removal from a variety of surfaces.
In most cases, you find others coupling them with other sanders such as the belt sanders, because the disc sander is more efficient in small projects.
But you can also find convertible ones that can be used to tackle all the projects.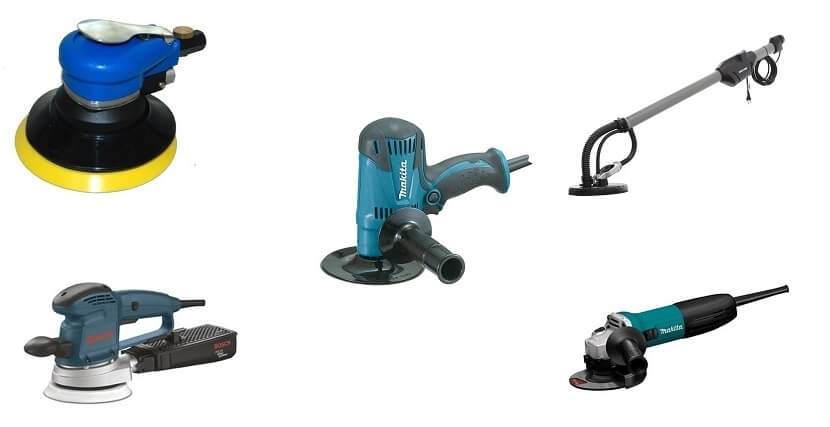 The features of the disc sander play a significant role in determining the strength to tackle numerous projects of all sizes.
If you are looking for the best disc sanders, be ready to find an overwhelmingly wide range of products from which you might struggle to pick the best, especially if you are not well-rounded with the features thereof.
Fortunately, you have caring people around the web (like me 🙂 ), who went all the way to handpick the best disc sanders for you.
Here they are:
I have reviewed the disc sanders below and have emphasized on their paramount features for your engineering projects.
Moreover, I have given you a glimpse on the features to look for as well as the tips needed to be using these disc sanders safely.
Let's get into the reviews now.
---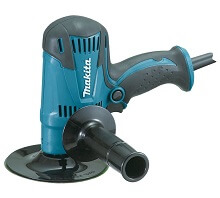 Woodworkers' enthusiasts can surely elaborate more on the cutting edge technology of Makita's industrial power tools because of their abundance and unrivalled performance.
The company has put innovation to another level by proving powerful and compact engineering disc sanders and other products.
The GV5010 disc sander is our testimony to that.
It is a 5-inch disc sander powered by the 4.2 AMP motor rotating at 4500 RPM for fast sanding with a rating input of 440W.
The ball and needle bearing construction lengthens the durability of this disc sander while its ergonomic soft grip enables you to grip the machine comfortably.
The tool's impeccable industrial performance makes it ideal for a number of sanding projects.
>> Click here to see pricing, ratings, and reviews on Amazon.com. <<
No feature seems to be sub-standard in this disc sander.
Included in your package are the hex wrench, side handle, abrasive disc and the plastic pad.
A few yet powerful combination of sanding components in a lightweight 2.6 pounds Makita's GV5010 disc sander.
They are attributable to the versatility of this tool in a wide range of industrial sanding applications.
If there are any defects in your product, Makita offers a one year product warranty from the day of purchase.

Jerry's Take
My take on the Makita GV5010 disc sander is that it's an excellent and compact industrial disc sander with which you can complete a broad range of sanding applications.
The fact that it doesn't have the variable speed doesn't necessarily mean it's a con.
Instead, one can have variable pressure on the treated surface for varied results.
It has a powerful motor of 4.2 AMP that rotates at higher speed.
I'd recommend this disc sander to any enthusiast in woodworking or metal sanding applications.
>> Click here to see pricing, ratings, and reviews on Amazon.com. <<

---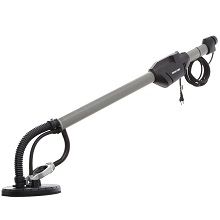 For those looking for a disc sander with variable speed, Porter-Cable 7800 is an ideal choice with a range from 1400 to 2000 RPM.
This range of speed dial enables you to choose the desired speed to sand the surface.
It's actually a great feature for newbies because they can start with lower speed until they advance with this compact 8.5-pound disc sander.
The hook and loop straps help one to easily handle and mount this disc sander, while the 13-ft vacuum hose helps in disposing of the dust particles for a healthier and cleaner working environment.
An external vacuum can be attached with ease on this sander using the convenient hook and loop straps.
Furthermore, the tool's powerful 4.7 AMP motor, rotating at higher speeds up to 2000 RPM ensures that any sanding application is successfully completed.
It can be suitable for material removal on metals, plastic or wood materials.

Jerry's Take
In fact I would give the Porter-Cable 7800 even more stars if more than 5 stars were allowed.
It is the best investment one can make.
The tool's powerful 4.7 AMP motor oscillating at variable speed make every project a breeze to complete.
The best feature is the integrated 13-foot vacuum hose to clear out the harmful dust particles.
It makes your work-area dirty-free.
The tool's compact and lightweight size makes it portable to reduce the muscle fatigue of having to lift it up.
>> Click here to see pricing, ratings, and reviews on Amazon.com. <<

---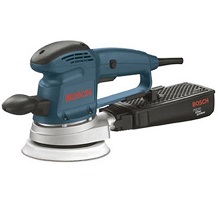 Bosch is one of the renowned manufacturers of high-performing industrial sanders that are versatile in a wide range of sanding applications.
This Bosch 3727DEVS 3.3 Amp 6-Inch oscillates at variable speed from 4500 to 12000 RPM for a perfect finish.
It makes life easier for workers with varying experience levels in sanding projects.
It's defiantly one of the best disc sanders I've seen.
Furthermore, it is 12-inch long and has a lightweight of 5.2 pounds making one of the most compact industrial tools.
The die-cast aluminum gear features the dual-bearing mount pad and constant response circuitry for overload protection in your sanding projects.
This multi-purpose sander assures you a swirl-free finish on all the surfaces with its integral pad dampening system and its 6-inch discs are easy to change.
The dust canister helps provide a cleaner working environment for your health.
With this sander you can achieve the best and smooth results whether you are preparing a wall to paint it or removing paint on your old furniture or applying a finish on a metal or wood.
And with its variable speed, you can adjust the speed in accordance with the specifications of your projects.
It uses the 6-hole, 6-inch hook and loop disks.
So this makes your search for replacement parts an easy one.

Jerry's Take
The Bosch sander is really impressive with this high-performance.
It excels in both the horizontal and vertical surface sanding.
My friend bought it last year October for his home improvement projects and I watched closely as he operated him.
The dust canister is effective, so there's no need to attach an external vacuum to this tool because a high percentage of the dust is being removed.
The other interesting thing is the variable speed of this sander.
>> Click here to see pricing, ratings, and reviews on Amazon.com. <<

---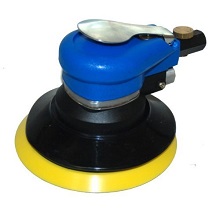 The air-powered TCP Global 6-inch sander is a professional heavy duty tool for those who have outgrown the electric-powered sanders.
This air-powered tool is cost effective at around $50.
You don't have to break your bank balance to have this industrial equipment in sanding applications.
The ball bearing construction eliminates the vibration when operating this powerful machine.
Many projects are being marred by vibrations because of the heavily-oscillating motors, but this tool is an exception with its swirl-free finishes.
The integrated regulator helps with the speed control for perfect results.
The TCP sander operates with a 6-inch adhesive backing pad that oscillates at a higher speed of 1000 RPM.
The operating pressure is 90 psi with the air inlet size of ¼".
Furthermore, this sanding tool is one of the compact and lightweight industrial sanders weighing 2.37 pounds.
Its longevity is enhanced by the heat-treated steel components and its ergonomic design.

Jerry's Take
It is a great tool for the price.
I like its deviation from the electric-powered sanders as it is air-powered and still provide a sterling industrial performance in sanding applications.
Its ergonomic design and the ball bearing construction assure perfect swirl-free results because vibrations are being deterred.
Its high speed of 10000 RPM is an impressive feature too.
>> Click here to see pricing, ratings, and reviews on Amazon.com. <<

---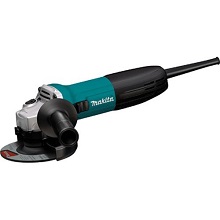 With the Makita industrial tool you seldom go wrong because of the precision, power and comfort used in manufacturing.
If the tool shows any defect, the manufacturer has a one year warranty as an assurance that quality tools are being engineered.
This Makita GA4530 4.5-inch grinder is heavy duty tool with a small circumference to treat a wide variety of products.
It comes with the lock nut, side handle, inner flange, lock nut wrench, grinding wheel and the wheel guard.
The product is powered by the 6.0 AMP motor that rotates at 11000 RPM to achieve the most complicated industrial applications.
To prevent abrasions, the Labyrinth construction seals and protects the motor from the dust particles.
This grinder is actually ideal for automotive technicians, woodworkers, general contractors, electricians and a number of DIY professionals.
It is engineered for perfection with its machined bevel gears for longevity.
The tool weighs 4 pounds, which makes it a lightweight grinding tool from Makita.
The ball bearing construction and the metal gear make it more durable and sturdy.
It is for the workers who seek the cutting edge industrial tools that yield high quality results.
So, whether you remove rust, cut ferrous metals or grind steel, this Makita is worth your consideration.

Jerry's Take
This angle grinder from Makita offers the unparalleled results in a variety of sanding and grinding applications.
It is lightweight and has a compact ergonomic design that enables it to be lifted with ease whenever treating elevated tools.
I am also in fond with its powerful 6.0 AMP motor that oscillates at a higher speed of 11000 RPM.
This tool has all the features you'll prioritize in an angle grinder.
>> Click here to see pricing, ratings, and reviews on Amazon.com. <<

---
How to Choose the Best Disc Sander
Choosing the best disc sanders comes with huge efforts of going through dozens of features that each possesses and that could be overwhelming for an amateur in these industrial tools.
All the disc sanders may have the common features, but have significant differences.
I have complied a comprehensive and helpful list of points to take into account whenever choosing the best disc sander.
Here we go:
The Powerful Motor →
The power and strength of any disc sander lies in its quantified power of the motor.
A disc sander with 6.0 AMP performs better than the one with the 4.5 AMP motor provided other features remain constant.
You also have to take into account the speed at which these are operated.
For instance, you may find other disc sanders with a single speed which may be challenging to configure in line with your task at hand.
Others have a variable speed that helps you adjust the speed until certain perfection is achieved.
Such sanders are ideal and are the best for amateurs.
Brand Preference →
It is undeniable that brand preference also plays a part in how best the disc sander is.
For instance, comparing a Bosch disc sander with the same quantified performance of the motor to a Makita disc sander with the same configurations may see, for example, Makita emerging as the winner.
From my experience, Makita has remained consistent in its manufacturing of compact and powerful industrial tools compared to others, particularly the new entrants.
The Bosch brand as well.
It has been providing the industry with unsurpassed industrial tools.
Diameter of the disc →
The larger surfaces to sand may dictate the diameter size of the disc.
Normally, these disc diameters may range between 4 inches to 12 inches with the average on being 6 inches.
Larger diameters are the best for large surfaces.
And the higher the diameter, it is the higher the quality and better the precision.
If you know that you always treat smaller surfaces, it is better to stick to smaller diameters.
Obviously size goes hand in hand with the price.
Budget constraints →
Manufacturers usually charge their industrial tools based on performance.
The heavily priced disc sanders are indicative of a better performance because of top notch features.
But then not everyone is committed to breaking the balance the disc sander over $400, whereas there is a cheaper one at $40.
If you use the tool for commercial purposes you will have to buy the expensive ones that come with top performance.
Dust Collection Features →
After reading my reviews above, you may have noticed that some come with dust canisters while some with vacuum hose to attach an external vacuum.
This is still the battle of the best.
The dust collection canisters are effective in removing most of the dust particles.
It will be an added advantage if the micro-filter system is also provided to remove even the finest particles that could be detrimental to your health.
The vacuum hose offers the opportunity to remove more dust to through external vacuum.
But then having to spend extra dollars on a vacuum can be a drawback, unless you had one already.
Lightweight →
The convenience of industrial tools lie in their ability to come with compact and ergonomic designs.
In most cases, the disc sanders may have to be lifted to elevated tools.
Heavier tools will surely cause muscle fatigue and the discomfort of operating them.
That being said, you have to take into account the weight of the disc sander you are choosing.
Additional Features →
Additional features/additional accessories also play an important role in the disc sanders.
For instance, some may be cordless whereas others are corded.
The cordless offers a better convenience of moving to any desired place.
With the corded and electric-powered disc sanders you have to operate in close proximity to the electricity socket.
Other features may include the rubberized grips or detachable handles.
All these help in a comfortable handle of the tool.
You may also find the measuring systems integrated in some of the disc sanders.
There could be a plenty of additional features.
Also noteworthy is the ball bearing construction in some sanders which help reduce the vibration to yield swirl-free results.
---
Tips for Using Disc Sanders
Disc sanders are such compact and powerful engineering tools that are efficient and convenient to use.
However, one may regret having had one after a disastrous injury caused by the disc sander.
With this in mind, you have to exercise precautionary measures whenever using these tools.
The manufacturers often disseminate safety tips in the operator manuals.
Quite frankly, some find the print too long to digest.
Say thanks to people like me, who will read every fine print and summarize it for you 🙂
I have discussed the tips on how to use the disc sanders safety and conveniently below:
Wear eye and ear protection →
Starting with the eyes, these tools can still emit dust particles despite having dust canisters or vacuum hoses.
Not 100% of dust is being collected.
Your eyes may be susceptible to the entrance of fine dust particles, which may send you crying to the optometrist.
To prevent that, I advise you to wear the goggles or other protective glasses.
Equally important is the protection of your ears.
These tools can be inevitably noisy and that could consequently affect your hearing ability.
A prolonged noise can damage your hearing.
I advise you again to find protective wear on your ears.
Wear respiratory mask →
Inhaling the dust particles can also spell the bad news to your health.
It's inescapable to do that when you are exposed to finer dust particles.
A respiratory mask is the best preventive/protective wear.
Also noteworthy is tightening the loose clothes or jewelry on your body.
A long hair should also be contained far away from the abrasive disc.
To help reduce the ubiquitous dust particles in your sanding project, I reckon you find the best ventilation system.
Your dust collection system should be on par.
Do not apply force on the disc sander →
This is important!
I know that others may be accustomed to applying more pressure on industrial tools to produce good results.
It is a different thing with the disc sander because, with the higher speeds, the friction caused can be overly destructive to the surface area being treated and can possibly lead to fire creation.
The weight of any disc sander is sufficient to put the required pressure on the surface.
Your duty is to hold the machine and direct it accordingly.
And again, do not hold the sander on one spot for a long time because it can also be destructive.
Pre-tune it to the required speed before placing it on the surface to be treated.
Keep your hands and fingers far from the rotating disc →
Your safety should be a priority.
Make sure that your fingers and your hands are at a safe distance from the rotating disc because I have heard some horrific incidents in the past where operators had their fingers cut by the rotating discs.
Do not be counted among the statistics.
Even when adjusting your disc sander, make sure that you switch it off first for safety precautions.
The locking nut should be tightened before adjusting the adjustable disc sander.
Ensure a secure tightening of the components →
The loose components of your disc sander can also be dangerous.
Make sure that they are all securely tightened.
Don't forget to make sure the safety guards are secured as well.
Clean the tool before operating it →
Hygiene is also important.
I do not encourage using the machine instantly from one application to another.
The dust particles may have accumulated in the components.
So it is advisable to dispose them of before starting another sanding project.
You also need to empty the dust collector bag.
Ideally, you should empty the dust bag frequently even when sanding the same surface.
Observe the switch gear before starting.
Keep a distance from another person →
As much as you prioritize your health, you should do the same with others if you are in a workshop.
Keep a safe distance between your work area and the next person.
If working in duo, all of you should be mindful of safety precautions when operating the machine.
Do not exchange hands while the disc sander is still operating.
Switch it off first before someone carries on from where you left.
---
Frequently Asked Questions
Can I use a disc sander in all the sanding projects?
The disc sander is a versatile industrial tool that can be used in a variety of sanding and grinding applications.
However, using it in larger projects appears to be a mammoth task, unless you stick with the larger disc diameters.
But, ideally, it is suitable for metal or wood finishes.
If you have a rough surface, I reckon you consider the belt sander first, and then use the disc sander.
Can I remove paint on my old wall with any of these sanders?
Yes, definitely you can.
Check the features of your chosen disc sander.
Sometimes the disc paper grit plays a dictating role if you can use it to remove paint or not.
It also depends on the type of the wall painted.
Keep in mind that the disc sander can leave swirling marks on your wall after removing that paint.
And for old painted walls, it helps to understand the type of paint used and know the ingredients.
The dust particles can be detrimental if you are not wearing the respiratory mask.
Fixed and variable speed, what are the advantages?
A disc sander with a fixed speed doesn't allow you to tune the speed according to the nature of the task given.
It becomes challenging for an amateur to operate such tool with a fixed speed.
The variable speed disc sander, on the other hand, gives you the privilege to adjust the speed accordingly and gradually.
With such tools, amateurs in operating these tools can start low until they excel in higher speeds.
Is the disc sander better than the belt sander?
I wouldn't say one is better than the other.
It really it depends more on the project you are currently working on.
Sometimes they can work in synergy where the belt sanders are used to treat heavily rougher surfaces and the disc sander to apply the finish on the surface.
Thanks to those manufacturers that produce multi-purpose sanders that can operate as the disc and/or belt sander.
What are the safety measures to use these sanding tools?
I have reiterated and emphasized above that you have to wear protective goggles, protective clothes and respiratory masks.
The fact is that the dust collection systems do not remove all the dust particles, so they can be life-threatening to the operator.
Moreover, make sure that you clean and empty the dust collection bag before sanding or grinding the steel after sanding the wood.
The mix of the saw dust and the metal sparks can cause fire.
Furthermore, avoid putting unnecessary pressure on the sander because its friction against the surface can also cause fire or damage the surface being treated.
Which size of the disc is perfect?
It depends on the size of the project you plan to do.
For instance, for larger projects I'd recommend the disc diameter of about 8" to 12".
For medium projects you can go with the average disc diameter of 6 inches, and for smaller projects go with the smaller ones the higher the diameter is the better the accuracy and precision as well as quality.
These discs are exchangeable and readily available on the market.
It is advisable to buy an assortment of discs.
---
Final Thoughts After this Top 5 Best Disc Sanders List
I believe that you are now well-rounded with the best disc sanders on the market.
My handpicked sanders will not disappoint you in whichever sanding application you plan to do.
From my reviews above, you can see that the most powerful products belong to Makita with the 6.0 AMP of motors and they have with high speeds as well.
Others are also impressive in performance, although with less powerful motors but competitive high speeds compared to Makita.
Enjoy your sanding or grinding projects with the products I have presented to you.
I have done the search on your behalf.
All you need is to assess the features discussed above and then choose accordingly.
But, important, prioritize your safety.
Read the operator manual that comes with the disc sander to familiarize yourself with the safety precautions.
Good Luck!