Build Quality

Features

Price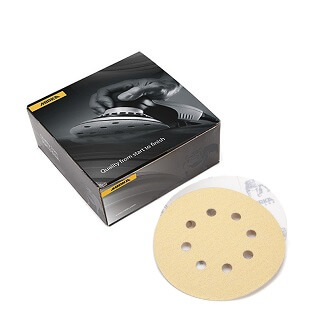 Sanding discs are made differently and are available in different sizes and grits.
I have chosen the one made of aluminum oxide grain for you.
The Mirka's assortment of sanding discs can fit in a wide range of sanding tools such as the DeWalt DW421, Bosch 3107, 3725, and the Makita BO5010.
Aluminum oxide has proved to be not only the most effective but also durable grain that has gained trust of many professionals in woodworking.
>> Click here to see pricing, ratings, and reviews on Amazon.com. <<
With this Mirka kit, you get 50 sanding discs per box, whereby each grit has 10 pieces.
The grit included is 80, 100, 120, 150 and 220.
The size of these discs is 5-inch and each has 8 holes.
That being said, the discs can fit in any sanding tool regardless of the brand, as long as it accommodates 5-inch sanding discs with 8 holes.
That's the advantage of having this Mirka kit for all your woodworking projects.
The discs' longevity is enhanced by the anti-load stearate and by the high-strength resin bond system.
For anyone enthusiastic about woodwork projects from coarse applications to a smooth finish, Mirka's assortment of sanding discs is the best choice.
There are sufficient discs for each grit to complete larger projects.
Word of advice: when sanding rougher surfaces, start with the lowest grit and then advance per grit.
You can jump one to the other, but not recommended to jump from, say, 80 to 220 grit.
The finish might not be as smooth as desired.
>> Click here to see pricing, ratings, and reviews on Amazon.com. <<

Frequently Asked Questions
Can these sanding discs fit in my Milwaukee Brand?
It actually doesn't matter that which brand you have as long as it matches in size and holes with these sanding discs.
For instance, it should be able to fit 5 inches orbital and 8 holes.
Do these sanding discs come with the loop where I can attach papers?
They have the Velcro backing that helps in attachment of the paper on.
Can these sanding discs be effective to sand metals?
Yes they can.
It depends that which grit you are using.
And it also depends on the strength of the sanding tool used as well as the speed the motor rotates with.
The discs' aluminum oxide is sturdy and powerful to sand almost anything.
How frequent should I change the sanding disc?
There's no specific time.
However, since an assortment is provided, I recommend using each level of grit until the finer grit.
So that way you will be able to track the progress and then fit the next grit once the current one no longer yields results.

Jerry's Take
The best product is seen by its design material.
The aluminum oxide grain in these sanding discs made me love the assortment tremendously.
My friend has bought these assorted sanding discs for his orbital sander, and I must say he never experienced a problem with any.
It's just that it takes a skill to maneuver this variety of grits.
I am impressed with the fact that they can work on any sanding tool as long as there is a match in holes and the 5 inch of size.
>> Click here to see pricing, ratings, and reviews on Amazon.com. <<

Pros:
50 units per box with a variety of grits
Has size of 5 inches and 8 holes to match with ease with any sanding tool requirements
Made of the durable aluminum oxide grain
Has Velcro backing to attach the sanding paper with ease
Cons:
Doesn't work on any sanding tool unless match in holes and size
The sanding discs are too many if you need only disc for a once-off project.
Mirka's assortment sanding discs might be a dream came true for woodworking professionals.
It is tedious to navigate stores looking for individual sanding discs.
This kit brings you a variety of grits that you can choose to excel in your home improvement project.
The aluminum oxide grain extends the durability of these discs.
So you don't get to change the discs too frequently.
Good Luck!
>> Click here to see pricing, ratings, and reviews on Amazon.com. <<