Build Quality

Features

Price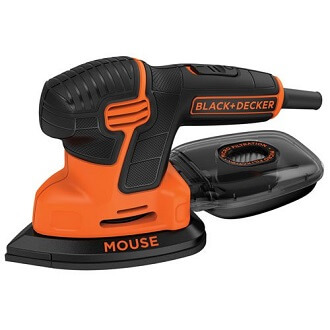 Planning any home improvement projects soon?
One of the best tools for home improvement is the sanding tool that will help you apply a finish on metals or woods.
You will need it to sand walls and floors, as well as DIY furniture.
Black & Decker sanding tools are some of the best industrial tools known for their superb performance.
Consider the BDEMS600 Mouse Detail Sander for all your sanding applications.
This sanding tool is characterized by a compact and ergonomic design with the sanding pad and finger attachment included.
It excels in tight spaces with its powerful 1.2 Amp motor that rotates at 14000 orbits per minute.
>> Click here to see pricing, ratings, and reviews on Amazon.com. <<
Thanks to the 3-position grip that we can manipulate this sanding tool with ease to sand even the most difficult tight spaces that other sanders cannot manage.
These grips are the palm grip, precision grip and the handle grip.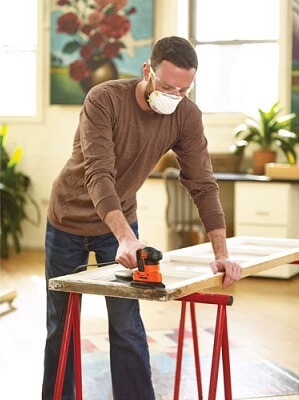 >> Click here to see pricing, ratings, and reviews on Amazon.com. <<

For your health, the tool has the micro-filtration which helps reduce even the finest dust particles.
The dust collection system helps in making a cleaner working environment.
The transparent dust canister helps you see the amount of dust particles so that you can dispose them off.
There are essentially plenty of sanding features that are a must-have.
Frequently Asked Questions
Can I use this sander on my kitchen cabinets?
Yes, you can use it.
But, word of advice, you must be gentle because it is a powerful and heavy-duty sanding tool with 14000 orbits per minute.
Do not lean on it, applying too much pressure, because it might lead to swirl marks.
Does it have a variable speed?
No it doesn't.
Only a single speed of 14000 OPM is provided by this tool.
So you need to excel in that speed to avoid messing up your projects.
Is Black + Decker better than Makita's sheet sander?
Each machine has its unique features.
So it is hard to compare them.
But in terms of speed, Makita sheet sander has a variable and adjustable speed dial, whereas this one doesn't.
However, it's all about convenience, not necessarily a warrant of high performance of the other.
What should I wear to operate this tool?
First thing is to wear goggles to protect your sensitive eyes.
If you are sanding paint walls, I recommend wearing the respiratory musk to prevent the invasion of paint residues which can be detrimental to your health.
Other health precautionary measures are stipulated in the instructions manual.
>> Click here to see pricing, ratings, and reviews on Amazon.com. <<
I have never used a sanding machine before. Can this be easy?
Certainly yes. It is easy provided you follow the operator manual well.
Even YouTube tutorials can help you understand how to operate it.

Jerry's Take
I love this amazing Black + Decker sanding tool.
It is actually fun to use it on a variety of sanding applications.
Its faster speed of 14000 orbits per minute is a selling point to me.
I also like its micro-filtration system which reassures me that my health is not at risk by filtering the harmful tiny dust particles.
SO, if you are an enthusiast in sanding, this is the tool for you.
>> Click here to see pricing, ratings, and reviews on Amazon.com. <<

Pros:
Faster speed of 14000 OPM with the 1.2 AMP motor
Has a micro-filtration system for fine dust particles
Has 3-position grips for ease of operations
A transparent dust collector canister
Compact and ergonomic design
Cons:
No adjustable speed. So this might be a challenge for the novice sanders
It can be noisy, so you need ear protectors
Can be dangerous if precautionary measures not implemented
Black + Decker sanding tool is an incredible and effective industrial sanding tool to apply that desired finish on your wood or metallic projects.
All you need is to master the tool in conjunction with the operator manual provided.
It is, predominantly, one of the few sanders that integrate the micro-filtration system together with dust collection bag.
I love this tool.
Good Luck!
>> Click here to see pricing, ratings, and reviews on Amazon.com. <<